Presenting the new Victoria Malacatí beer
The presentation ceremony took place at the Caminito del Rey pathway along with the Malaga Provincial Council and the mayors of Álora and Ardales.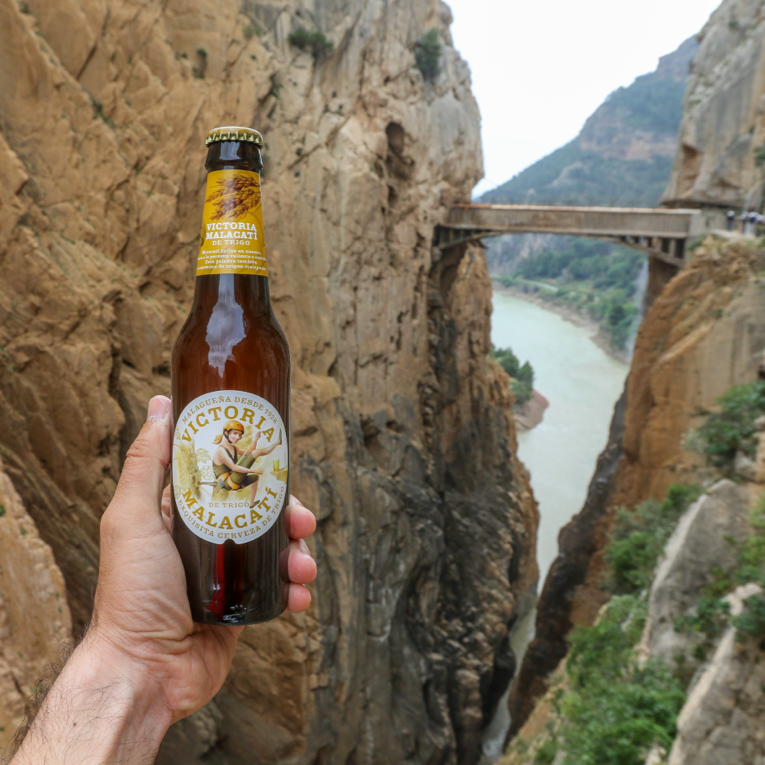 Malacatí is the new name of Victoria's wheat beer. A word that defines brave and daring people as well as being synonymous with the origin of Malaga. Its label shows a climber on the walls of the Gaitanes Gorge; one of the most famous areas of the Caminito del Rey pathway due to its steep construction and rich landscapes.
That is why the place chosen to present this new image was this unique location in the province. According to Juan Carlos Maldonado, from Malaga Provincial Council, "It is an honour for Malaga Provincial Council that they have chosen such an emblematic place in the province as the Caminito del Rey. Every local or tourist who drinks this new beer is encouraged to discover one of Malaga's jewels."
Victoria Malacatí is brewed with 100 % natural ingredients using barley and wheat malts, and brewmasters describe it as very refreshing and aromatic. It is a wheat beer based on traditional German recipes, created in the Malaga brewery and labelled with the distinctive 'Sabor a Malaga' seal of approval.
This beer is available in 20 l kegs and 33 cl bottles. It is currently available in bars and restaurants and in Maskom supermarkets, as well as at the Victoria brewery on Avenida Velázquez, subject to prior reservation on the website.